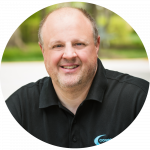 Coveros CEO, Jeffery Payne, talks a little bit about the services we offer, how we differentiate ourselves from other consultants, and what's next on the horizon for the organization.
Q: What does Coveros specialize in?
A: Agile engineering. We help organizations transition to agile by designing, building, testing, delivering, securing, and managing their applications using agile methods.
Q: You say "agile engineering" instead of just agile. Why?
A: There are literally thousands of agile consultants out there to help companies transition to agile, but most of them are not very technical. I believe agile works only when you craft an approach that is unique and customized to the organization and to each team. To do this, you must have the technical chops in order to determine how to design, build, test, deliver, secure, and manage applications. Without a strong technical background, it is very difficult to advise a company. We make sure Coveros has this expertise.
Q: What other services do you offer?
A: Designing, building, testing, delivering, securing, and managing applications is plenty! However, when you look at this value stream, it encompasses activities such as DevOps, DevSecOps, Test Automation, etc., which are all key components of our solution.
Q: What makes Coveros different?
A: Our people and values make us different. My mantra has always been to hire people smarter than you–but that does mean as the first employee, I may be the dumbest person in the company. We also believe very strongly in the core values we established when the company was founded: client-focused delivery, shared success, strong relationships, and honesty. We talk about how we live these core values at every all-hands meeting we have. The combination of exceptional team members and a strong commitment to our core values allow us to differentiate ourselves in agile engineering.
Q: What are the biggest challenges organizations you work with facing?
A: They tend to hold tight to traditional software development approaches even while attempting to leverage agile. We see mutant versions of agile like Scrummerfall, Waterfall, Scrumbut, and frAgile in organizations not willing to let go of the past despite realizing they need to move to a new method of delivery.
Q: You often say, "Don't just do agile, be agile." What does that mean?
A: Agile is a state of mind. It's a way of thinking. It's how you react to problems. Respond to situations. A set of guiding principles. Unfortunately most organizations don't look at it that way. They think agile is something you DO. Scrum, Kanban, XP, DevOps. When you try to make something that is inherently a way of thinking into just a bunch of prescriptive ceremonies and activities, it won't work.
Q: What's coming next for Coveros?
A: Coveros recently joined forces with TechWell, a long-time strategic partner that focuses on building software communities through events, training, and media. This is an exciting opportunity for Coveros, as it will greatly accelerate our thought leadership as well as allow us to build communities around the things we do in agile. Our goal is to bring together customers, partners, and our experts to collaborate and solve agile problems together. We believe the whole is much greater than the sum of the parts and these communities will not only help Coveros succeed but will provide the software industry, as a whole, with ways to accelerate improvements.